Digital Patient Chart
The InfoMedix product suite provides health services with a digital medical record that is simple and easy to use, in a manner consistent with existing clinical and health information practice. The InfoMedix Digital Patient Chart provides scanned paper records with associated metadata, integrates patient and administration data from Patient Administration Systems, incorporates live data from clinical source systems such as Pathology and Radiology and enables direct entry of clinical information into predefined digital forms in the patient record.
The patient information is presented in a very familiar layout to clinical and health information staff, closely resembling the paper record, which allows an easy transition from a paper to a digital system. The InfoMedix Digital Patient Chart can be used as a standalone system, or with our larger suite of products as a complete digital solution.
Benefits / Features
Integrates with over 60+ Clinical Systems
Reduced medical errors through better access to patient data and error prevention alerts
Digital Forms Creation and Management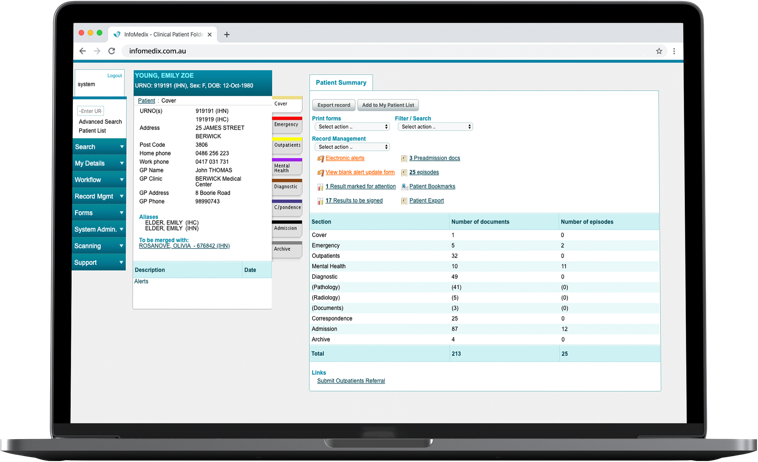 Coding Manager
The Infomedix Coding Manager Module is an automated workflow that assists coders in managing the coding process before patient discharge by providing real-time visibility and management across; - Visibility of all episodes that are currently being coded, and their status - Direct access to the episode within the patient record that is being coded
- Communication links between coders and clinical staff to resolve documentation queries - Allocation of specific episodes to coders based on a variety of parameters including length of stay, specialty, ward and coding competency - Ability to review coded discharges for quality assurance and auditing purposes
Benefits / Features
Streamlines processes to reduce coding completion time
Understand your data and financial position sooner
Allocate episodes to coders and track progress
Referrals Manager
The referral process is a critical component of quality clinical care. A paper based referral processing system can lead to delays in assessment and treatment for the your patients.
The InfoMedix Referrals Manager Module can transition a health service from a paper-based system reliant on manual input, to an automated workflow that provides transparency, reduces duplication allowing a health service to track the status of each referral through their defined workflow.
Benefits / Features
Track and provide transparency for the status of referrals
Direct access corresponding patient record for registering patient against referral
Reduce errors and duplication by ensuring the referral process adheres to a workflow
Discharge Manager
The InfoMedix Clinical Discharge Manager enables sharing of patient discharge summaries directly to the Australian My Health Record System, to support continued patient care after hospital stay. Discharge summaries are created within the patients DPC health record using digital forms, and uploaded using HL7 secure messaging technology.
The InfoMedix Clinical Discharge Manager has full audit functionality, to ensure your organisation meets digital health requirements.
Benefits / Features
Direct integration with My Health Record
Seamless upload via HL7 Messaging
Supports continued patient care after hospital stay
Contact us
Get in touch
Learn more about how Infomedix products can work for your organisation